An innovative formula for atopic skin
Calms
Calms the irritations and the itchiness of the atopic skin of babies and children.
Protects
Restores the microbiome and the skin structure.
Hydrates
Skin becomes suple, smooth, with an improved visible aspect.
AD-RESYL
Benefits: rebalances the skin microbiome, restores the skin's barrier function, reduces inflammation, soothes, improves hydration, significantly reduces recurrence.

The innovative ingredient extracted from an emblematic plant in traditional Chinese medicine, Ohiopogon japonicus, has extraordinary benefits in treating atopic skin. It is a safe, hypoallergenic natural asset, perfectly tolerated by sensitive skin.
Shea butter
Benefits: reduces irritation and discomfort. It has an important contribution in the finesse and elasticity it brings into a cosmetic product.
Known also as Karite Shea butter and originating from Africa, it is considered as sacred because of its positive effects. It contains phytosterols that have a calming, draining and decongesting effect, and large quantities of vitamins A, E, C, that contribute to hydration, wound healing and skin suppleness.
Glycerin
Benefits: humectant agent that hydrates, protects the skin barrier and prevents water loss in the skin.
Aquaphyline
Benefits: this wild pansy extract regulates the epidermis' hydration process by stimulating the synthesis of aquaporins.
Aquaporins are water-transporting proteins that earned their discoverer a Nobel Chemistry Prize. The skin is hydrated from the inside out by drawing water from the dermis towards the epidermis and constantly improving the skin's water flow.
Alphabisabolol
Benefits: Alfabisabolol – the natural extract from the Eremanthus erythropappus tree, found in the Amazonian forest, is used by scientists for its calming and anti-irritant effects.
Herculane Thermal Water
Benefits: soothing, anti-irritant properties on sensitive skin, Herculane Thermal Water protects against premature aging.
Found in every unique Ivatherm formula, Herculane Thermal Water has scientifically proven properties that are calming and anti-irritant, being also rich in minerals and trace elements.
Pediatric efficacy and tolerability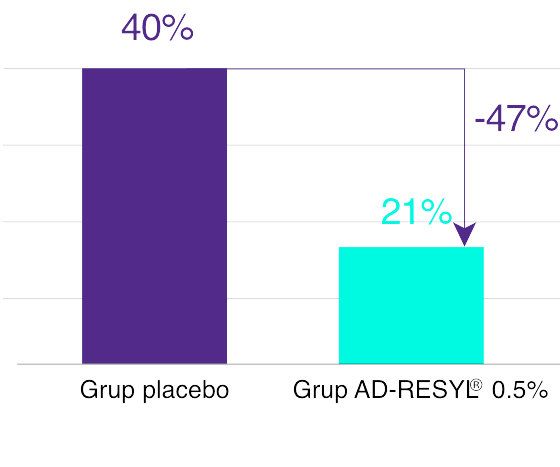 AD-RESYL reduces the frequency of atopic rashes with - 47%*
*In the conditions of this study, after 60 days of twice daily use, the relapse rate when using formula containing AD-RESYL was reduced by a half in comparision with the use of the placebo: the number of cases observed was lower in group AD-RESYL, i.e. 9 cases (21%) versus 17 cases (40%) in group Placebo. These results show the interest of AD-RESYL treatment in remission and treatment of atopic dermatitis in Caucasian children.
% of people agree Ivahidra+ BAUME…
**Among the subjects of the Ivahidra + Intense Relipidant Intensive Balm study under pediatric control – Acceptability and effectiveness of the product after 21 consecutive days of application, twice a day, on a panel of 15 children (with dry and very dry sensitive skin), aged between 6 months – 36 months.